Would you like to make this pretty rainbow fan?Let us tell you how! When the weather gets warm we need to cool down. How pleasant to sit out in the garden, in the shade with a cool glass of water and using this pretty fan. You can make this rainbow fan using strong, coloured cardboard. Take a look at our summer catalogue for more summer craftwork ideas. zomer knutsel ideeën.
You will find an article on making this fan that will open and close waaier die je open en dicht kunt schuiven/draaien.
How to make your very own rainbow fan:
Use cardboard and cut out squares of about 20×20 cm. Use different coloured cardboard.
Take one of the squares and on one side make a fold of about 2 cm. turn your cardboard square over and make another fold. Continue folding until you have a sort of accordion. Do this with all of your different coloured squares, you need about  8 or 9 pieces to make a good sized rainbow fan.
Glue the folded squares together. Use pegs to hold the pieces together while they dry. You can also staple them together.
Now you need to make the handle. Hold the bottom of the fan together and wind wool around the ends. You could use a drop of glue to help hold everything together.
Carefully open up the top of the fan (you must of course be sure the glue is dry).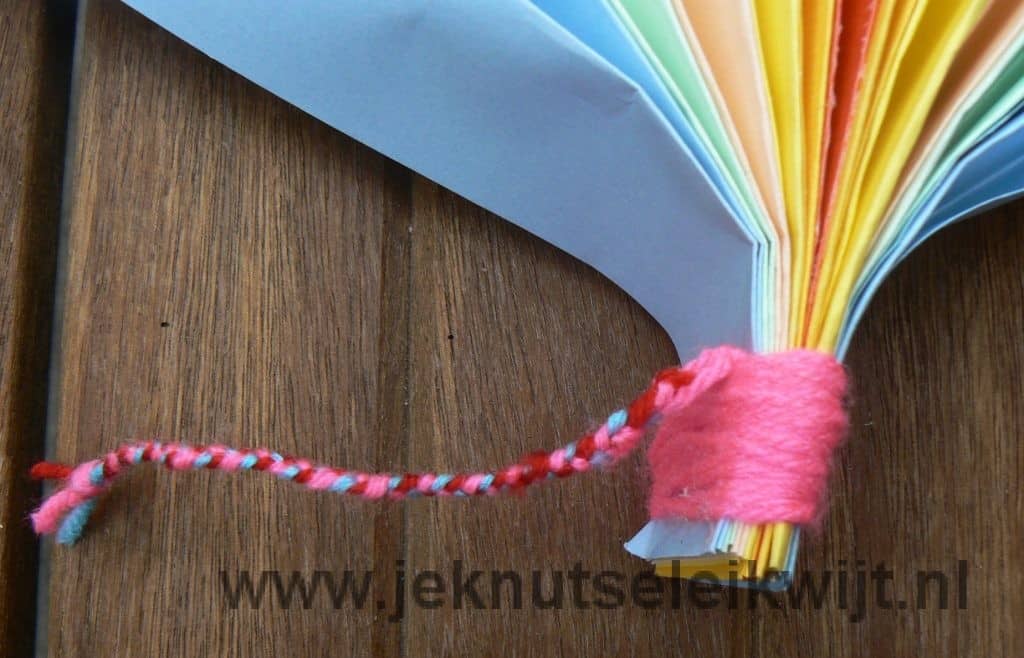 A tip for making your rainbow fan:
– for an extra special beautiful fan decorate it with glitter.
– Plait 3 strands of wool together and fasten this to the bottom of the fan.
Reacties
Reacties