A picture frame crafted from foam as a gift for Mother's day
A mothers day craft work. How to make a picture frame using foam, this is easy to make but if you want you can embellish it. This craft work idea is suitable for toddlers to help make. Look at our mother's day craft page for more idea's.
How to make this pretty picture frame mothers day craft work:
To make this photo frame for Mother's day you will, of course, need a nice photo, glue, scissors and sheets of foam that you can buy in the Zeeman or Action shops..
 Glue the photo onto a piece of strong cardboard that you can cut from a cardboard box. You can make the frame as big or as small as you like. I made my frame in a simple rectangular shape but you can also choose to make it heart shaped or in the form of a flower or a simple square.
Cut the foam into strips and then into small squares which will form the mosaic.
You can either stick the pieces of foam directly onto the cardboard or you can first stick a sheet of the foam onto the cardboard, cutting out a piece where you will place the photo. This makes the background prettier but it does depend on the type of cardboard that you use.
 You can paste a triangular piece of cardboard at the back of the frame so that it can stand up. You can also make two small holes at the top of the frame using scissors or a prick pen, you then pass a thread through the holes and tie it in a knot so that the Mother's day photo frame can be hung in a special place on a wall or even on a door handle.
This photo frame makes an ideal gift for Mother's day but can also be used for Father's day or as a Valentine gift.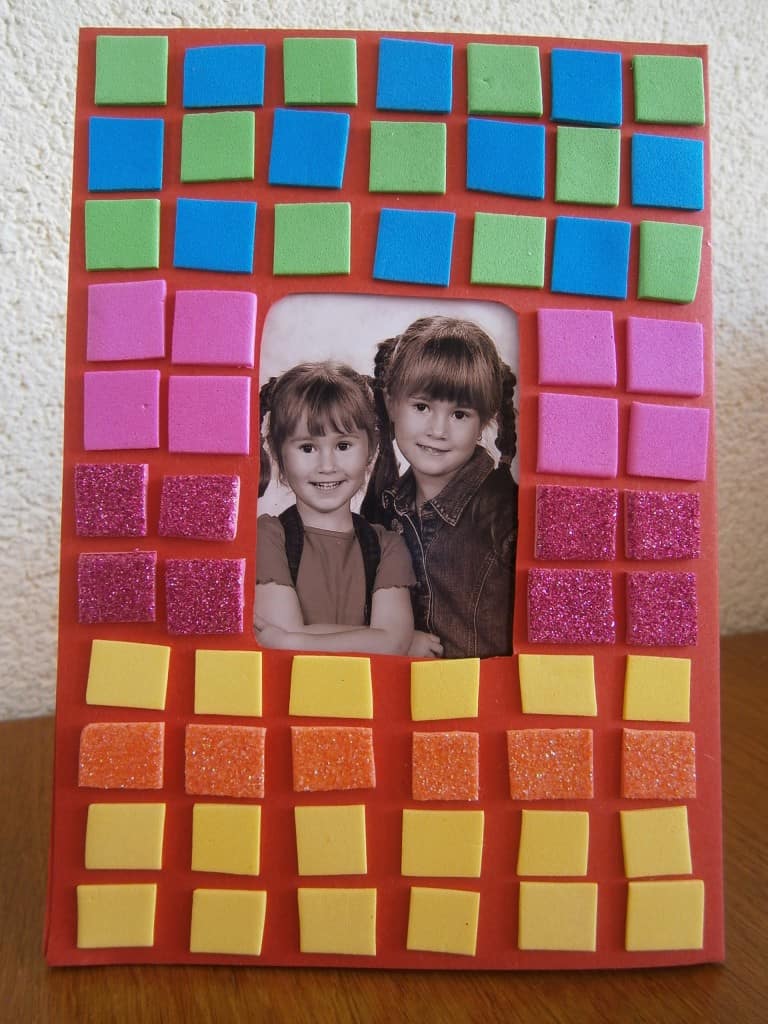 If you use this as a gift for Valentine's day then you can cut the cardboard into a heart shape. For Father's day you might want to cut the cardboard into the shape of a car.
Reacties
Reacties